The Evolving Role of Immunotherapy in Late-Stage Sinonasal Melanoma

February 2018
J Neurol Surg B 2017; 79(S 01): S1-S188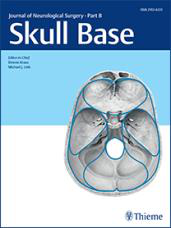 DOI: 10.1055/s-008-38208
Oral Presentations
Georg Thieme Verlag KG Stuttgart · New York
Perry T. Mansfield 1, Kathryn M. Liang 1, Hannah G. Goldman 1
1 Senta Clinic, San Diego, California, United States
Objective: To evaluate the emerging role of immunotherapy as primary modality of treatment or in combination with traditional therapies in late-stage sinonasal mucosal melanoma (SNMM). Immunotherapy has been successfully used to treat patients with mucosal and cutaneous melanoma. The expanding success of immunotherapy in these regions suggests a potential role in the treatment of sinonasal melanomas (SNMM).
Methods: Within the principal author's multidisciplinary skull base tumor conference database of 3,224 cases, documenting cases over the past 13 years, there were a total of 72 cases of sinonasal malignancies accounting for 4.4% of the total case volume. SNMM accounts for ~3.5% of sinonasal malignancies (Cheng et al 2007). Historically, the major approach to treatment for SNMM has been multimodality treatment including surgery, radiation therapy, and chemotherapy. With the evolving role of immunotherapeutics, the authors explore the role of immunotherapeutics in SNMM. Currently, there are seven different FDA-approved immunotherapeutic pharmaceuticals/combinations for the treatment of melanomas: talimogene laherparepvec (T-Vec), nivolumab, pembrolizumab, ipilimumab, ipilimumab + nivolumab, peginterferon α2b, and interleukin-2. We discuss the use and observations of T-Vec as well as ipilimumab + nivolumab.
Discussion: Revolutionary advances in the role of immunotherapy for cutaneous melanoma contrasted with the poor prognosis of late-stage SNMM demands consideration for its use in SNMM. A study by D'Angelo et al reported that a combination of nivolumab with ipilimumab consistently produced clinically significant improvement in progression-free survival rate as well as overall response rate, as compared with either agent alone (D'Angelo et al 2017). With PD-L1 ≥ 5%, the overall response rate of nivolumab was 53.3%, nivolumab + ipilimumab was 60.0%, and ipilimumab alone was 14.3%. With PD-L1 < 5% the overall response rate of nivolumab was 12.2%, nivolumab + ipilimumab was 33.3%, and ipilimumab was 9.5%. The authors to refine patient selection criteria advocate further investigation into the role of immunotherapy.
Future Directions: The role of immunotherapy in the treatment of late-stage sinonasal mucosal melanomas is evolving. The documented successes of immunotherapeutic treatments in skull base malignancies, and cutaneous and mucosal melanoma, in the literature suggest consideration of immunotherapy as part of the treatment paradigm in SNMM.