Identifying and Evaluating the Impact and Implications of Collaborative Multidisciplinary Care in Skull Base Treatment: Retrospective Analysis and Literary Review

February 2018
J Neurol Surg B 2017; 79(S 01): S1-S188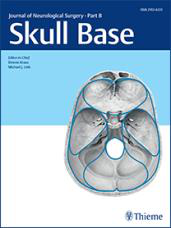 DOI: 10.1055/s-008-38208
Oral Presentations
Georg Thieme Verlag KG Stuttgart · New York
Perry T. Mansfield 1, Hannah G. Goldman 1, Kathryn M. Liang 1
1 Senta Clinic, San Diego, California, United States
Objective: To establish the efficacy and importance of conducting regular multidisciplinary meetings through database analysis and literature review. The database analyzes the results of a 13-year retrospective ongoing series of multidisciplinary skull base case presentations. The series consists of 1,638 prospective cases and 3,224 total cases recorded by the principal author between the months of January 2004 and July 2017.
Methods: Patient case presentations at conference meetings facilitated the collaboration between physicians of multiple subspecialties to ensure best care practices within a single tertiary referral institution. Patient data were recorded from regional biweekly CME accredited skull base conferences and organized by specific physician, physician specialty, date of presentation, clinical, radiographic and pathologic diagnosis, and treatment paradigm. The data were compared and contrasted to the available literature on the impact and outcomes of multidisciplinary conferences comparable in size, scope, and/or intention of our meeting. In addition, the legal and financial implications of multidisciplinary meetings were addressed and discussed.
Results: A comparison of the calculated data to that of standardized statistical values was conducted. Of patients presented at the conference, the average age was 55 years old, with a range from 15 to 97. Our analysis suggests that multidisciplinary skull base tumor conferences provides a platform to standardize nationally accepted best practices of care by diagnosis. Collaborative management resulting in modification of care recommendations potentially impacts disease-free survival and quality of life metrics. Review of the current literature presented challenges in clearly defining a correlation between successful multidisciplinary meetings and the overall quality of care for the patient. Despite this, multidisciplinary conferences have been increasing in popularity. However, as demand on physician time increases, these meetings are not without potential financial hindrances.
Discussion: An Improvement in the quality of care and outcome of the patient continues to be a motivation for multidisciplinary meetings, in addition to the previously established collaborative and educational benefits for those who attend. The authors recommend further research on the benefits experienced by patients treated with a multidisciplinary care approach. With an increase in the integration of technology in medical practices, such as online conferences, remote access to patient databases, teleradiology, telemedicine, and consult globalization, multidisciplinary conferences could enhance the care of patients outside the boundaries of a single tertiary referral center. Medicolegal and financial implications, for those in attendance, need to be clarified and understood by all involved. Multidisciplinary care facilitates communication between subspecialists, promoting the best care in the cost time- efficient manner. A multidisciplinary team may become the standard to ensure quality standardized care and improved patient outcomes. The authors advocate documentation of attendance, CME accreditation, and the collaborative opinion and treatment paradigm. Further investigation of the potential medicolegal impact for those in attendance should be undertaken.