In The News
USO Gala to Take Place in San Diego on May 20
12 May 17
By Brittany Woolsey
An event in San Diego on May 20 will honor and support active duty military and veterans.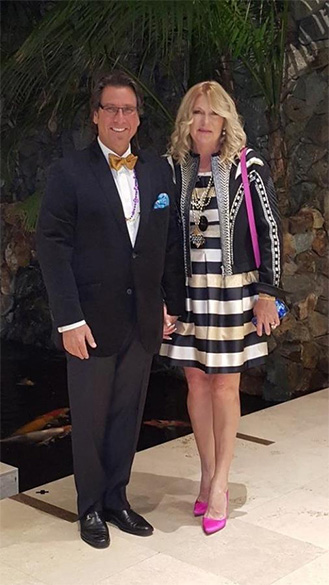 Perry Mansfield, left, and Judith Mansfield of Rancho Santa Fe are board members and gala committee members of the 76th annual Stars and Stripes Gala in San Diego on May 20. (Courtesy)
USO San Diego — which helps keep service members connected to their families, homes and countries — will host the 76th annual Stars and Stripes Gala, themed "Land of the Free... Because of the Brave" at the San Diego Marriott Marquis and Marina, 333 West Harbor Drive.
The event includes a performance by mentalist Eran Raven. Artist/vocalist Joe Everson will create an original piece of artwork while singing the National Anthem. Attendees will have the opportunity to bid on Everson's piece during a live auction.
Malin Burnham, a philanthropist and author, will also be recognized.
"As one of the leading military cities in the world, San Diego and our USO San Diego team serve an extraordinary number of people who are positively impacted from the dedicated and compassionate supporters of proud Americans who support our troops," Burnham said in a statement.
Rancho Santa Fe residents Dr. Perry Mansfield and his wife Judith Mansfield are board members of USO San Diego and gala committee members for the event.
"To me, a very important part of our responsibilities is raising awareness and financial support of the mission of the USO," said Perry Mansfield, director of skull base surgery and head and neck oncology at the San Diego-based Senta Clinic in an interview. "It really uplifts the active duty reserve and military families. You have to remember that it transitions deployed troops, wounded, injured and fallen, and as a result of that, the USO provides compassion, safe refuge and assistance for these service members and families who are often in challenging times."
Judith Mansfield, who owns and operates Precious Metals Fine Motor Cars of San Diego, said she and her husband became interested in the USO after attending last year's gala.
"We're civilians, and after attending that event and meeting all the wonderful people there, we found this whole new wonderful family," she said in an interview. "This was a way for, at least me, to give back to the community because we're with these people but really don't understand what they're going through. It's a way to give back our time and try to raise funds for them."
She said she has learned lessons in her involvement, such as what the USO lounges at airports and the privacy they provide mean to military members.
The Mansfields will host retired Senior Enlisted Advisor in the SEAL Teams Ty Smith of the Navy Seals at their sponsored table.
Smith, 38, who served for 20 years, led multiple platoons during various combat tours in Iraq and Afghanistan.
"The USO is an organization that I hold close to my heart for reasons that are obvious to me, but maybe not so obvious to those whom have never served," said the San Diego resident. "When you are a member of the U.S. military, and you are stationed overseas for long periods of time, even the smallest sliver of something that makes you feel as if you are not so far away from home goes a very long way. I was very fortunate that during my two decades of service, I could always rely on the USO, even when I didn't always have people at home, who had the ability to send care packages to make sure that I had items that would remind me of home."
Tickets and sponsorships for the event on May 20 range from $150 to $75,000.
For more information and tickets, visit www.usosandiego.org/2017gala. For more information, contact Sharon Smith at 619-987-8020 or Sharon_Smith@Cox.net
Copyright © 2017, Rancho Sante Fe Review